PHC - Print Head Controller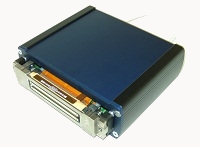 High performance and flexibility

The JetMarker PHC is a high performance unit designed for speed and flexibility. Inside each PHC are two electronic boards. One board is for power and fire curve generation controlling up to four individual curves. The other board contains a 500 MHz CPU for image processing and a FPGA dedicated for time critical operations. Connecting those two boards is a smaller bridge board that connects with Dimatix print heads; changing only this bridge board and updating the firmware makes it possible to use future print heads.

Image processing and control

The image processing CPU has memory for one image of a total length of approximately 30 meters at 200 DPI, or 30 images of 1 meter. Doubling the DPI will half that number. Also included in each PHC is a 2 port 100Mbit TCP/IP switch for easy UTP cable daisy chaining. Build in temperature control for the print head attached, the master PHC can be assigned to control ink tank temperature etc.

Casing and fitting

The PHC comes in an aluminum casing with fitting screws for easy assembly and replacement; protecting both the electronic boards and the print head circuit and thus preventing damage during handling.

Configuration and interface

The PHC system is delivered with the JetMarker Print Head Solution (JPHS) PC application. This application is used for setup and configuration of the system. Basic operations such as calibration and prints can be made with the JPHS. JPHS is developed for integration with third-party software and provides an application interface (C# class library) that is to be controlled by your system. This interface can control the print heads and receive images for print out. The application interface receives images for each color and automatically distributes the correct slice of that image to each print head controller (PHC).



List of main features
Build array sizes from one to any number of heads


Add any number of arrays from one to any number of arrays (colors)


Vertical print resolution from 50 dpi to 200 dpi


Horizontal print resolution from 1 dpi to 1200 dpi


Print speed exeeding 40KHz, equaling approx. 10 meters per second at 200 dpi


Easy to use programming interface



Readout of status information, print head temperatures


Setting of print head temperatures


Upload images directly to the arrays or into a print queue


Override temperature, nurse and dropwatch settings



Server solution for setup, control and monitoring the system



Configuration of the system


Logging and reporting of status and error conditions



Control of external ink tank temperatures


Use any FUJIFILM Dimatix print head



Individual adjustable fire curves include rise time, pulse with, fall time and amplitude


Nurse pulse settings for keeping the printing fluid alive during stops between prints


System build-up
A PHC system is a flexible one. The basic parts are:
Computer for running the JetMarker Print Head Solution (JPHS)
Product sensor to trigger the printout
Encoder/tachometer for controlling the print speed
Power supplies
Standard TCP switch
Hereafter it is up to the specific requirements of your system. Each PHC is an autonomous printing device having no knowledge of any other PHC's in its vicinity. The print width can be expanded to any width needed also the number of colors/inks is variable to any degree. The JetMarker Print Head Solution will take care of distributing the correct configuration and data to each PHC.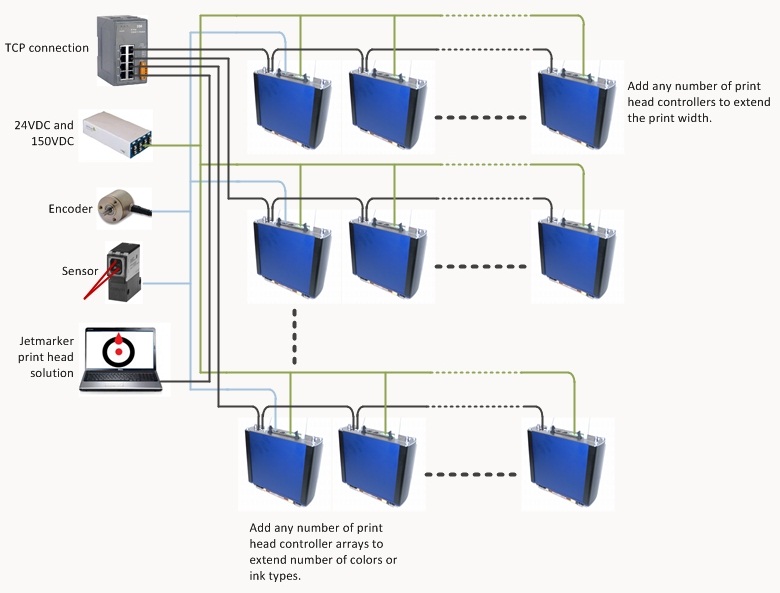 JetMarker Print Head Solution
With any PHC a software application for configuration and controlling the system is delivered. It is called the JetMarker Print Head Solution and besides configuration it provides basic printing facilities. It runs as a server enabling third-party clients to connect to the PHC server from any location.
The PHC also supports dynamic fields that can be changed between each printout either via the JetMarker Print Head Solution or a direct RS422 connection to a PHC using the RS232 protocol. Each PHC supports up to four dynamic fields that can be either a barcode or a text. These fields are then joined with a static background image residing in the PHC.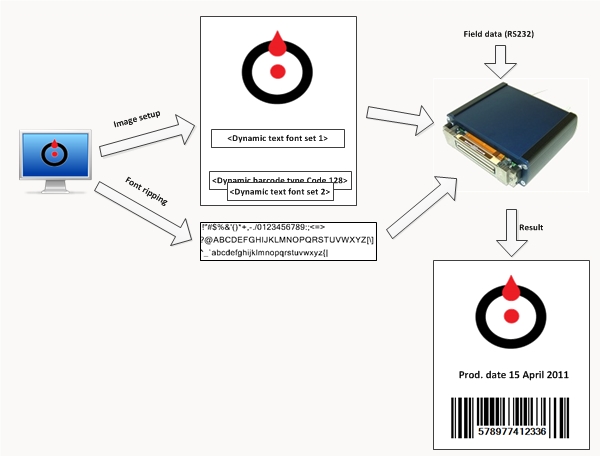 Images
| | | |
| --- | --- | --- |
| | | |
| Front connectors | System with 6 PHC width and 4 colors | PHC side view |
Promotional video
Downloads