Ink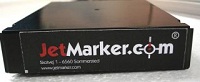 Fast drying and special functions

JetMarker offers a wide range of inks specially designed for fast drying on various surfaces and with other special functions.

The drop-on-demand print heads require bespoke inks in order to obtain long life time and high performance. Our inks are specially designed and contribute to a long and error free printing.

The price on the inks is designed to make it profitable only to use original ink supplied by JetMarker.

JetMarker can offer inks for various industries and the inks have the ability to stick on almost any surface, please do contact us for your inquiry.

Cartridges and many colors

We supply ink in standard 110 ml and 250 ml cartridges. The shelf life on the inks varies from 6 month to 18 month depending on the formula.

Also a wide range of colors are available. Custom colors can be supplied on request, but a minimum quantity may be required.

Please note that use of inks not supplied or approved by JetMarker will result in loss of warranty, not only for the print heads but for the entire product.

High security ink and color coding

Our high security ink solution is using hidden color coding. All Ink batches are traceable and only distributed to approved licensed customers.

This ensures your customers are receiving only original products and do not buy or parallel import copies.

This solution is especially interesting if you want to make sure customers are buying original products and your product line is substance for fraud or plagiarism.

The color code is easy to test and can even be performed by end-users only using the internet. The test can be performed multiple times during distribution to allow detailed traceability.